Shopware for e-commerce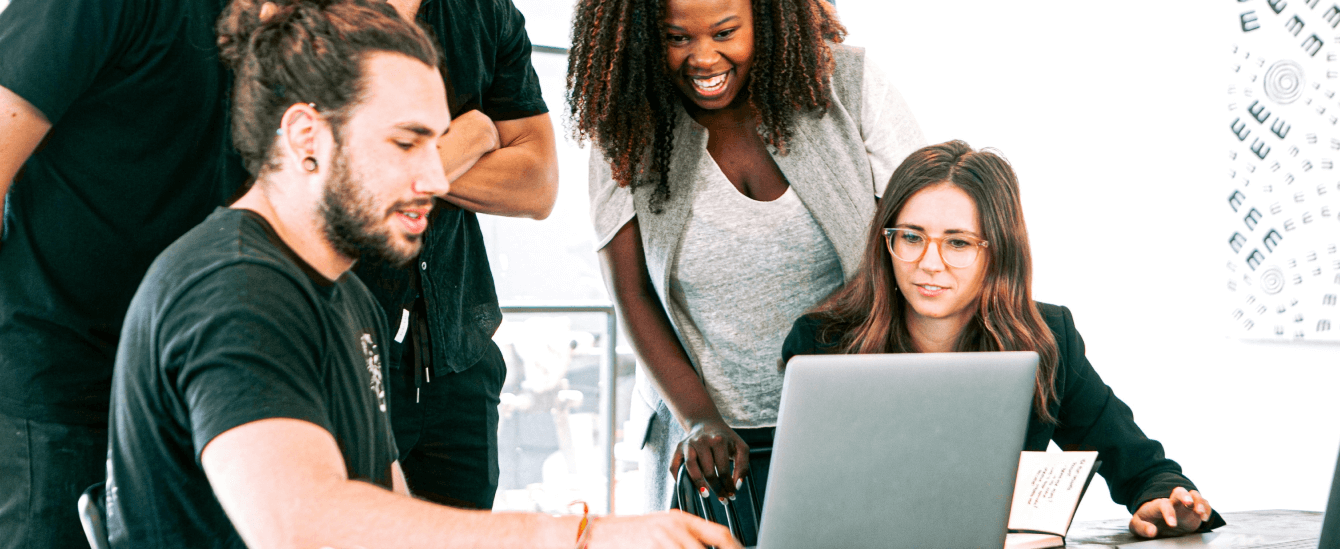 We have become used to the fact that the B2C e-commerce industry is full of effective tools for setting up and operating shops. The situation is slightly different in the B2B sector, where open-source platforms are still a growing branch. All the more reason to take a closer look at a player that offers modern, convenient and functional solutions. Shopware can be an interesting, cost-effective alternative to existing tools. In addition, it offers the possibility of implementing a very modern B2C and B2B platform within a single infrastructure.
But first things first: what can Shopware do for your business?
In the B2B sector, Shopware is attracting more and more customer attention as a strong competitor on the open source market and a serious alternative to Magento. With Shopware, you can even build a very large e-commerce platform and benefit from many functionalities that successfully compete with legacy solutions.
Czego dowiesz z treści?
What makes Shopware stand out as an open source platform for B2B and B2C? The most important functionalities.
How much of an investment will you make when implementing the Shopware platform? Will you pay more or less than for Magento?
Which functions can you use in the Shopware Enterprise version?
What is the B2B Suite version used for e-commerce?
What sets Shopware apart as a platform for B2C and B2B?
State-of-the-art technology
The Shopware platform is based on proven, stable and modern technologies such as the PHP framework Symfony and Vue.js. The system architecture is flexible, efficient and easy to use.
Flexibility and freedom to grow
The Shopware platform has been developed using open source technology, which provides a high degree of flexibility and freedom. This allows it to become the basis of any successful e-commerce strategy and facilitates the creation of solutions for a global community.
API First
With its API First approach, Shopware is a tool that allows full customisation to meet the needs of e-commerce and existing ecosystems and complex infrastructures. The platform's flexible core allows for a free combination of different components and systems, thus laying the foundation for new business models.
Customer experience
Individually tailored to your target groups, visually appealing content allows you to tell engaging stories and capture your customers' attention. With engaging, harmonious and consistent content, your customers can identify with your brand and the values it represents. With Shopware, you'll create a fresh experience for your audience on your platforms. You can add extensive content sections with photos, texts, sliders and multimedia.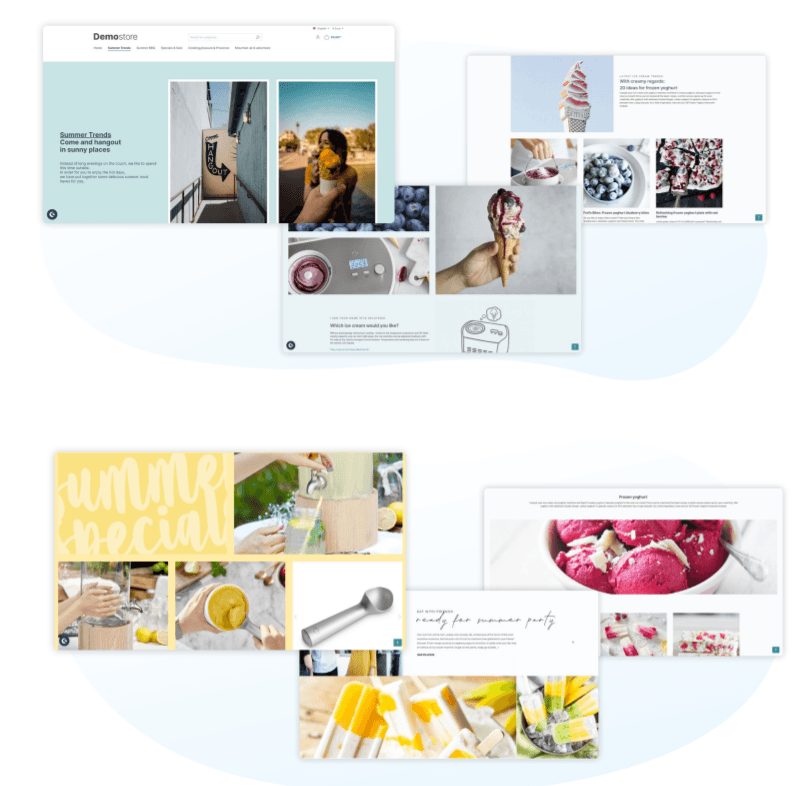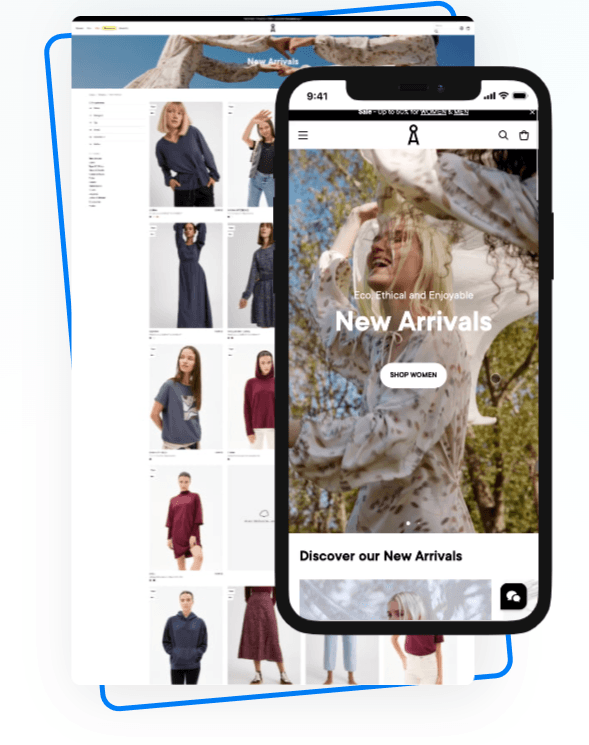 Everything under control
Different sales channels can differ in terms of assortment, language or even currency and attract different customers. With Shopware, you can control every sales channel from the same place, regardless of whether it's a classic online shop, social media platform, app or stationary point of sales.
You handle all sales in a single infrastructure, both B2C and B2B.
Intuitive operation
The interface is clear and transparent, and navigation is intuitive - both in the B2C and B2B models. Content management is easy and the powerful CMS allows you to create unique category views, landing pages or lookbooks.
Investing in Shopware B2B. Which version should you choose?
Shopware offers two models:
Professional – aimed mainly at B2C and definitely sufficient for this form of sales,
Enterprise – an even more comprehensive model, including functionality and support for B2B.
How much should you invest in the Shopware for B2B (Enterprise) model? More than in SaaS solutions for a year, but less than in very complex tools dedicated to business.
What is the difference between Shopware and Magento? Unlike Magento, for example, the fee is a one-off - you pay once and then use the license and support for as long as you use Shopware. In addition, the fee does not depend on the size of the business, including shop traffic and revenue. The licence cost is always the same for everyone.
Shopware Enterprise version – an application for B2B e-commerce
If you decide to purchase Shopware Enterprise, you can choose between two versions:
The basic version contains functionality usable in both B2B and B2C. It's the cheaper of the two, but it does not have features dedicated strictly to B2B.
The B2B Suite – is the most extensive version, created for B2B sales.
Basic Enterprise version (without B2B)
Search function – boost the position of selected products or categories
You can use features that allow you to boost the sales of selected products, e.g. those with high margins or from a supplier with whom you have an attractive contract. Certain categories can be searched for more often than others.
You can also decide how many products, categories or manufacturers appear in quicksearch and on the results page.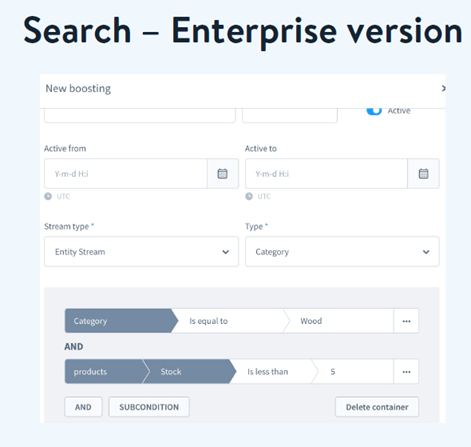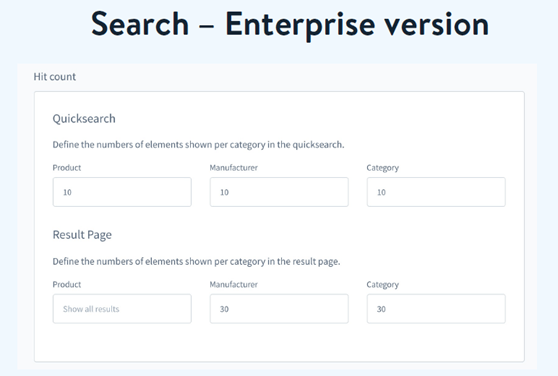 Publisher function – control changes on the platform
The Publisher function allows you to follow the history of changes, browse previous versions or view the authors of the changes. For example, you can verify whether a given offer was visible at a given time.
Multi-server environment - use several servers to increase platform efficiency
Multi-server environment available in the basic version of Enterprise (without B2B) allows you to decide whether a different server should be responsible for ordering processes than for serving the catalogue. In addition, you can set up several front-end servers to share the traffic, create a High Availability architecture, and add an external caching tool to the required server (to reduce the load on the site by making content previously downloaded by users to other users).
A multi-server environment allows you to increase the performance of the platform in the event of heavy traffic on the site; specifically, it:
Prevents page elements from taking a long time to load,
Can handle many orders simultaneously,
Increases the stability of the platform,
Prevents overloading.
Shopware Enterprise in B2B Suite version
The B2B Suite version offers functionalities designed for B2B sales.
B2B customer account – assign different rights to your employees
Every B2B project is different. With the ability to configure user accounts, you can assign different roles to your employees and tailor the platform's functionality to your business and company structure.
The account configuration allows you to precisely assign rights and roles on the website, control the budget, create quick orders and manage contacts and addresses.
A B2B customer account enables you to use the following functions:
Company structure management
Statistics
Company orders and acceptances
Product lists
Quick ordering
Quotation
Product numbering
How to take advantage of the configuration option for the accounts of different employees in practice?
Give one administrator rights to manage all departments of the company or different companies.
Set up different billing addresses for different departments (or different delivery addresses, but with a common billing address).
Limit a given company's or department's purchasing budget, or create several budgets to be used by different departments.
Control the budgets of each reseller.
Prevent a particular customer from buying certain products or exceeding a certain number of orders.
Manage access to specific functions, whether at the company, department level, or individual level.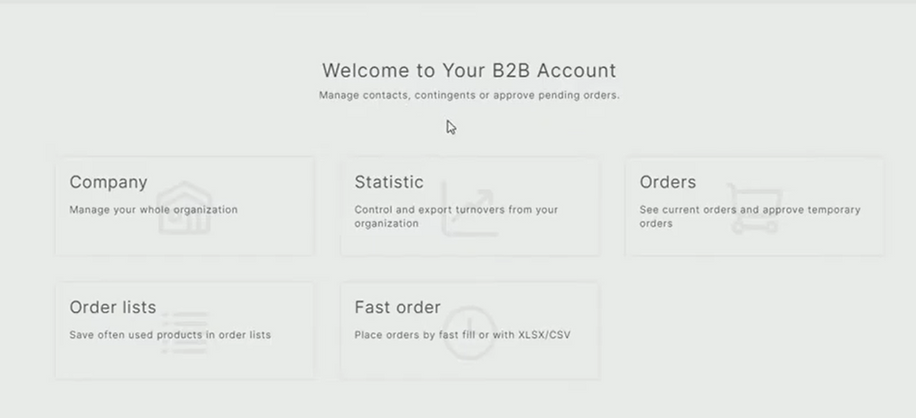 Orders and approvals – have control over what your employees buy and what changes they make to the site
Shopware Enterprise gives you the ability to accept and edit changes made to the site, such as deleting or adding products. Among other features, you can:
Set budget limits for orders placed by your employees,
Block orders that exceed your budget,
Block users from ordering specific products (e.g. employees can order the stationery necessary for work at will, but promotional gadgets for customers only after your approval).
Product lists – enter flexible criteria for creating lists
In Shopware, each user can create their own shopping lists. Lists can be shared (e.g. several people can have access to the same lists) and linked to a budget. They can also be downloaded, imported using the fast-order function and also sent to others.
When is such a functionality the most useful? For example, when you want to:
Have a list of the 300 most frequently purchased products.
Prepare lists of your favourite recurring purchases and seasonal purchases.
Create a new department in your company and provide it with a ready-made list for its first purchases.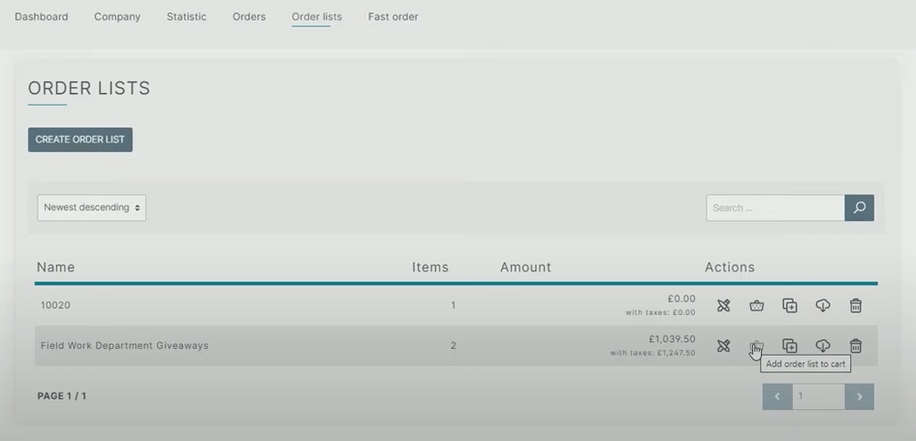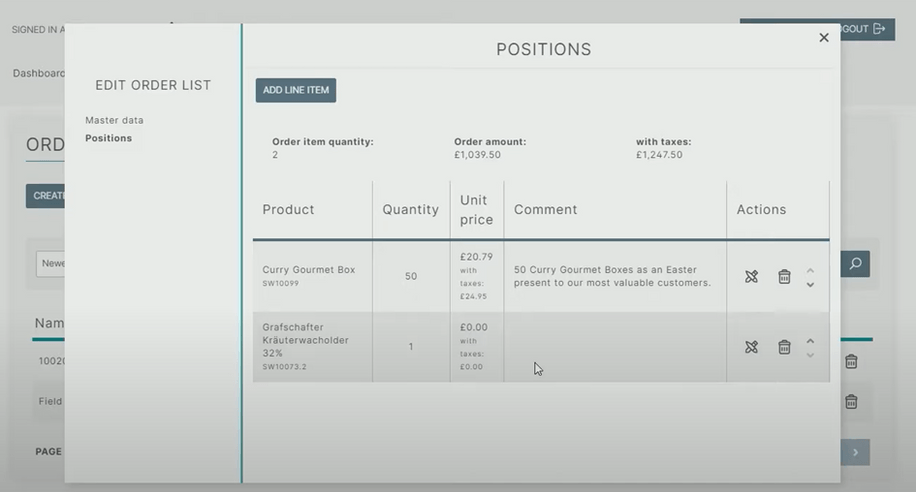 Quick orders – reduce the time needed to place an order
You can use the function to import csv, xls, and xlsx orders from a file of any structure, as well as import your own product numbers. This is especially useful if you want to quickly import missing goods from your internal system.
You also have the possibility to add to the basket or create new lists to quickly complete the order without verifying the products (because you know them by heart).
Making offers – place and receive attractive offers
Shopware's B2B features allow you to get better offers or discounts on products, e.g. for large orders. In addition, you can (personally, as a business owner or by authorising specific people) accept and change offer parameters, approve discounts for customers on multiple purchases, or view the entire offer history.
Custom product names and numbers - find products the way you like them
With Shopware, you can conveniently catalogue and sort your products according to the names used by your employees. Among other things, you can add and import your own product names and numbers, which, once saved, can be automatically handled by the Fast Order and the Order list search engine.
In addition, you can pass the mapped list (including the naming scheme) to other users and set the given parameters only for specific accounts.
Product cataloguing in practice:
Add alternative names for products you use every day in your company to increase your work efficiency.
Use the ability to quickly search for several products (you can assign a common name to a group of products).
Add new employees to the system and streamline their work by sending them name mapping lists.
Ghost mode – log in on behalf of the customer
You can log into your customer's account to handle their permissions. You can place orders on their behalf or change their profile settings. Why would you need this function? To solve customer problems even more efficiently and effectively. For example, when:
You can't handle the system yourself,
You want to see if a particular product is visible in a particular customer's account,
A customer places an order over the phone – you can complete the order for the customer, and the customer only needs to complete the transaction.
Is Shopware worth it? Definitely yes. It's a flexible, open-source tool that allows you to fully customise your platform according to your e-commerce needs and your current ecosystem. Create engaging content, tailored to your target groups. You can freely combine different components to lay the foundations for new business models.
What's more, you can use Shopware for both B2C and B2B in order to coordinate all your sales from the same place. Whether you're a medium or large business, you can implement Shopware at the same price, regardless of your sales volume. You pay for the licence once to use the platform indefinitely (only the B2B Suit support may require additional, recurring payments).
The advanced Enterprise version and the B2B Suit model will help you grow your business. Powerful yet easy-to-use features let you efficiently manage sales, configure employee accounts, control orders placed by employees, modify offers, create product lists or use quick orders. All this to make your brand grow stronger in domestic and foreign markets.
READ UP ON IT
Related posts