Shopware plugins worth implementing before 2024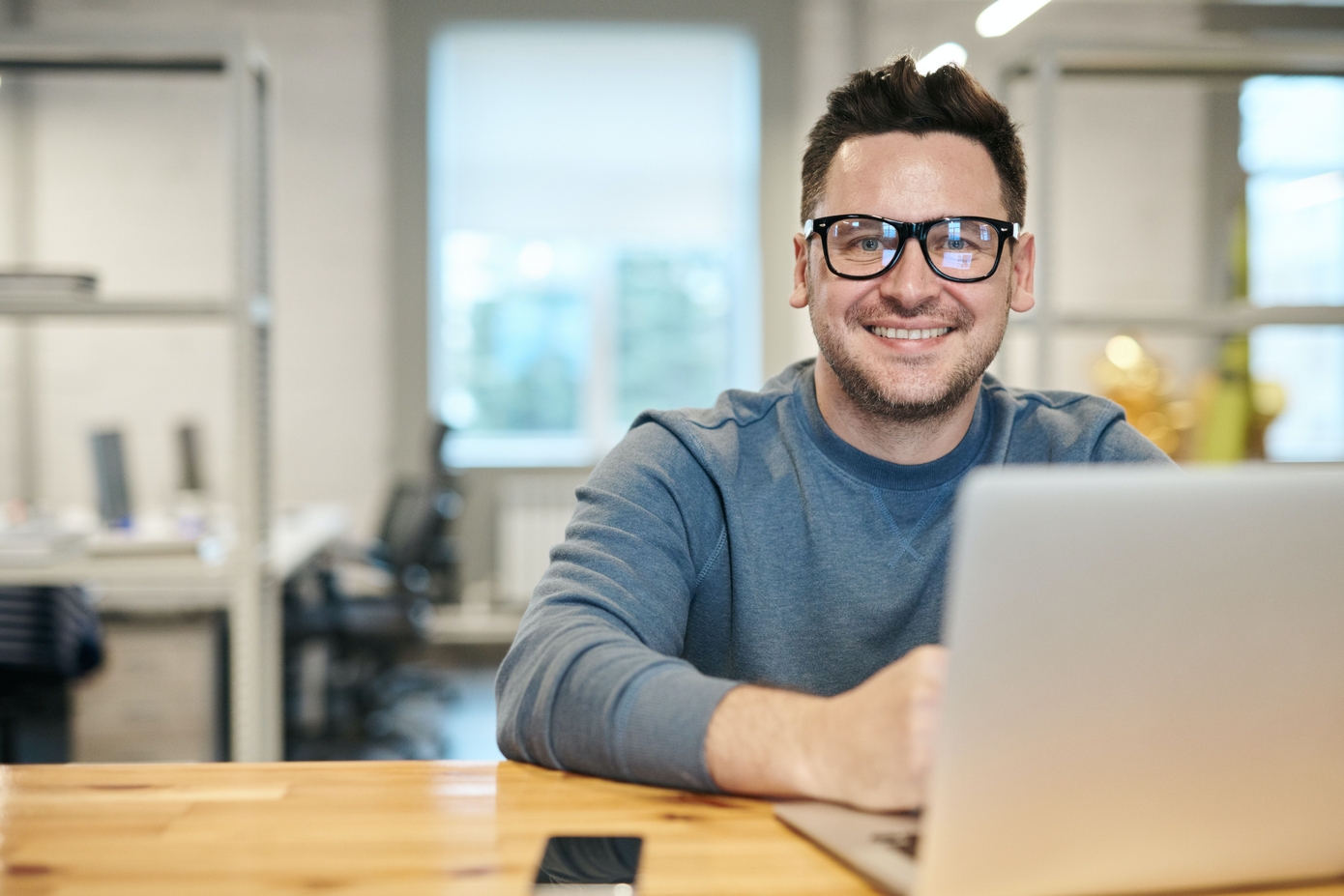 Let's dive deep into the world of Shopware, unveiling a curated list of standout plugins that are reshaping the eCommerce landscape. As we approach 2024, familiarize yourself with these innovative tools that promise to elevate your online store, streamline operations, and enhance the user experience. Don't miss out on these game-changing additions to the Shopware ecosystem!
In the intricate realm of eCommerce, staying updated with cutting-edge solutions is paramount for businesses that aim for the zenith. As official partners of Shopware, Tandemite is not only committed to harnessing the capabilities of this formidable platform, but also to keeping you informed of its latest advancements.
The power of Shopware lies in its versatile plugins, each designed to address distinct facets of online retailing. We are pleased to present an overview of the most recent or/and worth-checking plugins that have joined the Shopware family.
These tools are not just technological enhancements; they represent new horizons in digital commerce optimization. Let us embark on this journey of discovery, examining the precision, efficiency, and innovation that these plugins bring to the table.
Magnalister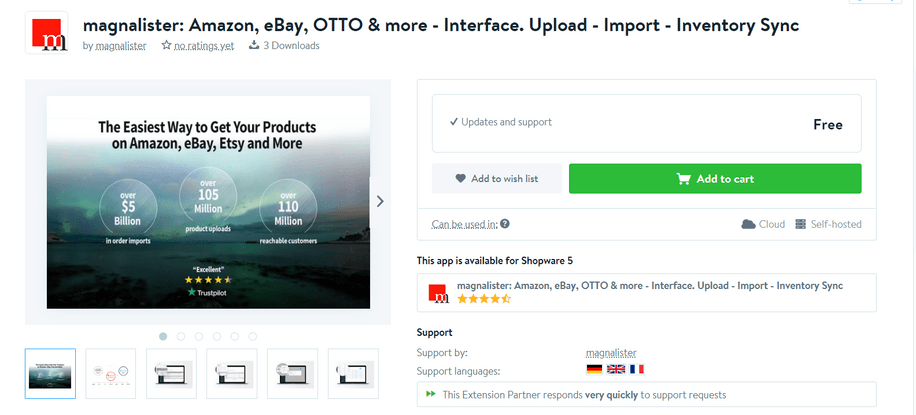 For online retailers seeking an efficient way to manage their multichannel sales, look no further than the Magnalister plugin for Shopware. This plugin promises a harmonized experience, bridging your Shopware store with major online marketplaces such as Amazon, eBay, Etsy, OTTO, and many more.
Here's a quick rundown of what Magnalister brings to your e-commerce operations:
Centralized management. No more juggling between different platforms. With Magnalister, you can centrally manage products, orders, and invoices directly from your Shopware dashboard. This level of integration means more time for you and less room for errors.
Simplified product uploads. Easily push your products from Shopware to various marketplaces. Plus, with attributes matching, the plugin ensures your product variations and features align perfectly with marketplace attributes.
Real-time synchronization. Say goodbye to discrepancies in product pricing and inventory across platforms. magnalister ensures real-time synchronization of your prices and stock levels, eliminating any risk of overselling.
Effortless order management. Orders from different marketplaces are imported directly into your Shopware store. Not only does this streamline order processing, but it also helps you maintain consistency in your customer communications.
Personalized pricing. Planning to sell internationally? Adjust product prices based on the local currency of the marketplace, ensuring competitive pricing without manual calculations.
Automated invoicing. Whether you're generating invoices from Shopware or using Magnalister's invoice wizard, you can seamlessly send them to platforms like Amazon, ensuring consistent and professional customer interactions.
Expert support. Setting up a multichannel platform can be daunting. But with Magnalister's expert support, you're never alone. From initial setup to troubleshooting, their team is available via phone, email, and live chat.
The strength of Magnalister lies not only in its features but also in its adaptability. Retailers can customize the plugin to fit their specific needs, ensuring it works harmoniously with their existing processes. Developed by a team with over a decade of experience, Magnalister has established itself as a leading software for connecting e-commerce stores with multiple marketplaces.
If you're keen on trying it out, Magnalister offers a 30-day free trial with full access to all features. So, for those who aim to broaden their market reach and streamline operations, the Magnalister Shopware plugin could be your next game-changer.


HosonoAI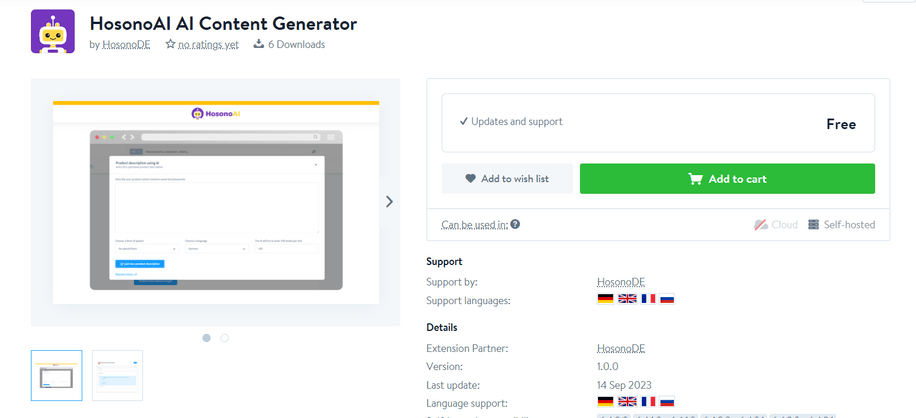 The Hosono AI Shopware plugin is a cutting-edge solution tailored for businesses seeking automated, high-quality product descriptions. Tapping into the prowess of GPT-3.5, this user-friendly plugin facilitates the generation of AI-powered content without requiring a commercial version of Shopware or a separate OpenAI account.
A remarkable feature of this tool is its ability to support a variety of languages and produce descriptions directly on the product page. What's more, users can choose between formal and informal tones, and the descriptions come with an organized HTML structure.
To get started, users are granted a generous 10,000 tokens for free upon registration, making it even more enticing to integrate. Designed for ease and efficiency, the Hosono AI plugin is set to revolutionize product description generation on Shopware platforms.

MailChimp for Shopware 6
The Mailchimp extension for Shopware is an integrated solution tailored to maximize revenue by providing powerful tools for multi-channel marketing campaigns, encompassing social media, email, digital advertisements, and more.
This Shopware plugin offers a full-fledged Marketing CRM equipped with advanced audience segmentation tools and automations, enabling businesses to foster stronger relationships with their customers. What sets this plugin apart is its capability to centralize your e-commerce and marketing data, ensuring efficient monitoring of customer metrics and purchase tendencies.
Notably, it ensures real-time synchronization of new and existing customer data from Shopware to Mailchimp, keeping product catalogues updated and leveraging historic purchase data. Users can harness features like individualized product recommendations and e-commerce automation workflows, allowing targeted marketing and audience segmentation. 

By connecting your Shopware store with Mailchimp's all-in-one Marketing Platform, businesses can craft visually appealing emails, initiate marketing automations with bespoke triggers, and implement data-driven social media ads. The extension ensures that businesses remain in the vanguard of customer engagement, driving sales and brand growth.
 
Testimonial Sliders
The "Testimonial Slider for Shopping Experience" plugin for Shopware offers online retailers a streamlined way to enhance the authenticity and trustworthiness of their store by seamlessly incorporating customer testimonials.
Designed with modern aesthetics in mind, this user-friendly plugin provides a responsive display, ensuring a consistent viewing experience across devices. Setting up is a breeze, allowing shop owners to have testimonial sections up and running in no time.
Retailers have the flexibility to choose from a selection of appealing designs or take customization to the next level by using their images and tweaking the colour scheme to align perfectly with their brand identity.
The integrated testimonials vouch for the product quality and reinforce the distinctive characteristics of the store, aiming to boost consumer confidence and, consequently, drive higher conversions.
With continued support for future Shopware 6 versions and a dedicated team for any installation challenges, this app stands out as an invaluable tool for online sellers looking to instil credibility through customer voices.
Channable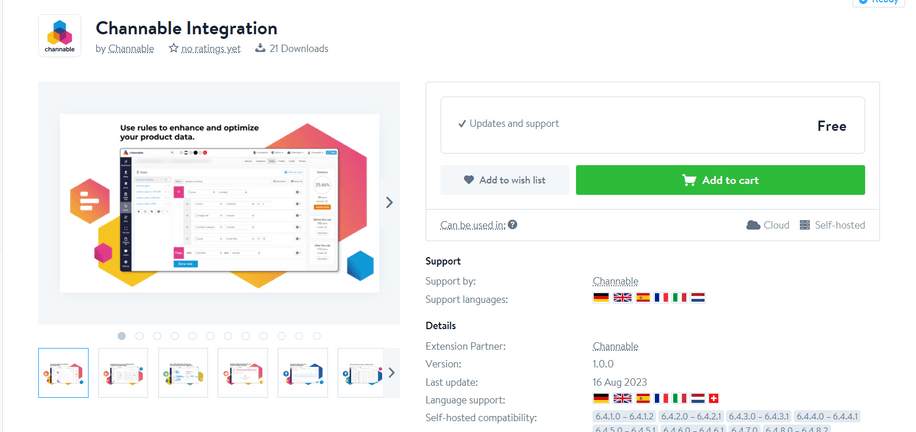 Channable's multichannel e-commerce platform is a game-changer for businesses looking to elevate their online marketing efforts and enhance their Shopware workflows. Integrating with over 2,500 marketing channels, Channable ensures that online advertisers and marketing agencies can efficiently manage and optimize their online presence.
With direct Shopware integration, importing product information becomes a breeze, reducing hassle and time consumption. The platform's robust rule system empowers users to fine-tune product data, employ feed templates for diverse marketing channels, and effortlessly categorize a vast range of items using AI.
Furthermore, the built-in PPC automation feature is designed to amplify advertising campaigns, allowing for the creation of dynamic, tailored ads that captivate audiences and drive conversions.
Analytics and insights further bolster decision-making, ensuring data-driven strategies. With flexible pricing plans, multilingual technical support, and invaluable training resources in the Channacademy, Channable's Shopware app emerges as an indispensable tool for businesses eager to harness the full potential of their online storefronts.
Summary

Shopware continues its dynamic growth trajectory in the e-commerce world, and it's no wonder we're enamoured with it. Its versatility is evident in the diverse range of plugins available, from enhancing product descriptions with AI to sophisticated marketing platforms like Mailchimp and testimonial integration. 
Plus, with tools like Channable that bridge the gap between e-commerce and multichannel marketing, Shopware truly stands out as a comprehensive solution. Its commitment to evolution and adaptability underscores why it remains a preferred choice for many.
That is why Shopware is one of our favourite technologies. If you think about migrating to Shopware, contact us!
 
READ UP ON IT
Related posts