Stage 1: In tandem with who?
Euleo – B2B customer receivables management
Euleo is a company with over 20 years of experience in receivables management and the legal and financial protection of entrepreneurs. Tandemite played the role of Euleo's strategic partner in its web projects.

Rozważna Company
Euleo owns the Rozważna Company platform, which offers the possibility of managing a company's receivables.

Experience and trust
The Euleo company was established in 2001. It currently boasts of 13,500 clients and 80,000 cases of debt collection.

Global reach
Euleo provides its services in 150 countries around the world.
Tandemite successfully built out the platform. They transferred processes online in good order. Project management was agile and subdivided efficiently.
STAGE 2: WHERE TO?
Design Challenge
The company Euleo has been dealing with debt collection and the related services for many years. It decided to create an online platform for enterprises from the B2B sector, which would enable the effective management of their receivables.
When creating the solution for Euleo, we faced many challenges. First and foremost, we had to design a solution that would allow entrepreneurs to manage a company's receivables comprehensively – it had to provide preventive tools, facilitate the control of the recovery process and ultimately enable debt recovery.
To properly fulfil its function, the platform we created also had to be integrated with the internal IT systems used by Euleo.
STAGE 3: IN MOTION
Process
We realised that there were no ready-made solutions on the market that would meet all the needs and expectations Euleo had laid out when they approached us. It was therefore necessary to create an appropriate base system.
In the first stage of the work, our team had to fully understand what tools Euleo wanted to offer to its clients. To make this possible, we took steps in the field of conceptual and strategic consulting.
During the project meetings, we were able to define the assumptions of the application, as well as finding room for improvements in the client's internal system. As a result, many of the analytical tools used by Euleo had to be automated.
Implementation details
Our cooperation with Euleo included:
Business analytics
Internet analytics
Technological and UX audits
Taking care of the websites
Software and its implementation
Functional design
Graphic design
Technical assistance
Permanent cooperation
Stage 4: Finish
Solution
Our team created numerous solutions for the field of business intelligence, which opened Euleo – that had previously operating outside the Internet – to online activities. The system designed by Tandemite got the company up and running, by providing its clients with useful tools for managing their receivables.
We created a Receivables Management System from scratch on the Prudent Company platform that was also designed by us. Among other features, it enables the monitoring of invoices, thereby reducing the risk of lost funds. Due to the modular design of the system, it can be easily scaled and integrated via an API with external applications.
In addition, we created an additional website for Euleo: the debt and receivables exchange niezaplacone.info. Among others features, it allows the publication of debts for sale, purchases of debts and the verification of contractors.
Thanks to our many years of cooperation with Euleo, we have been able to deepen our knowledge of the financial industry and of issues related to fintech.
Rozważna Firma website
We implemented solutions that educate users and thus increases the conversion rate.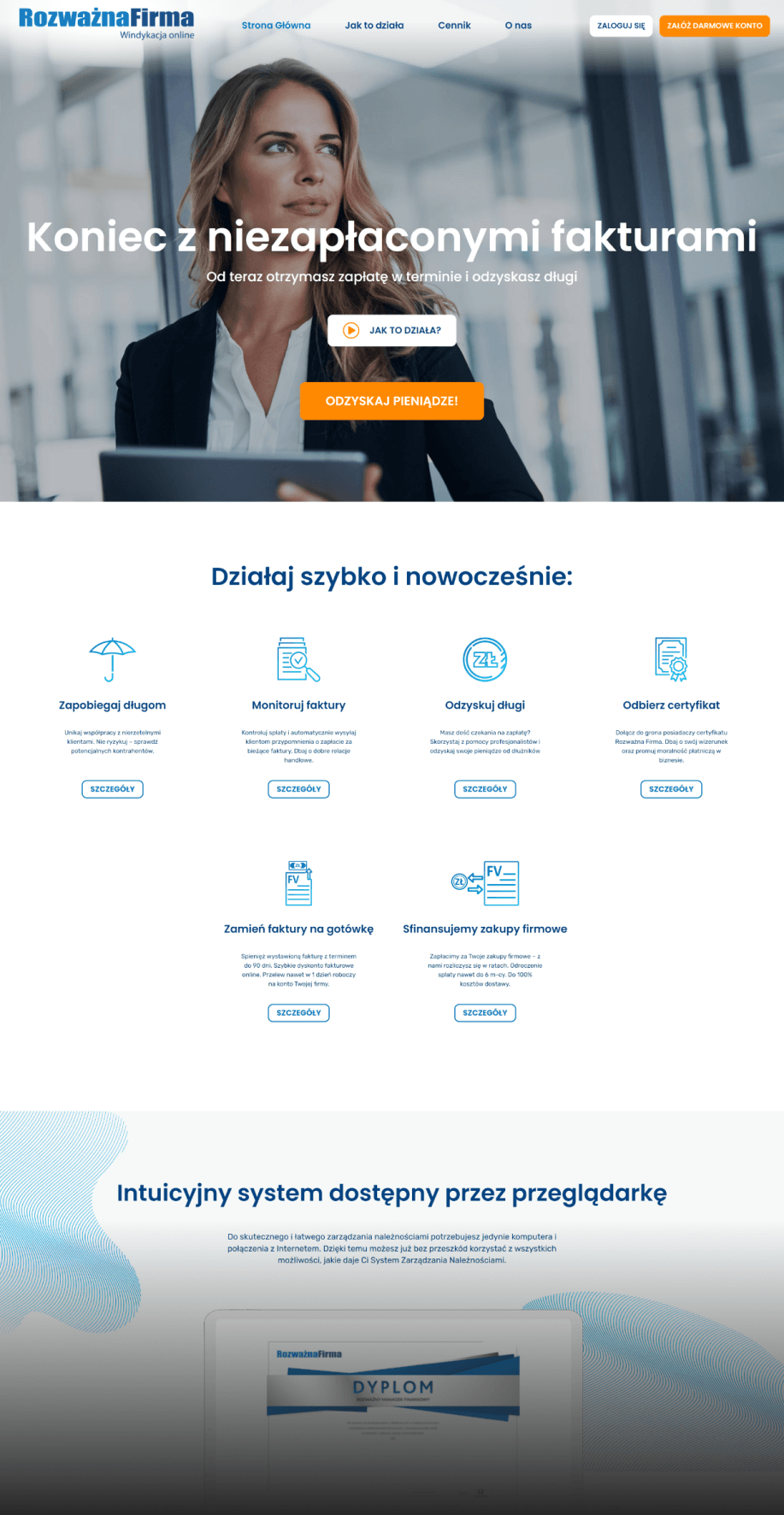 Dedicated application
A proprietary system that supports receivables management.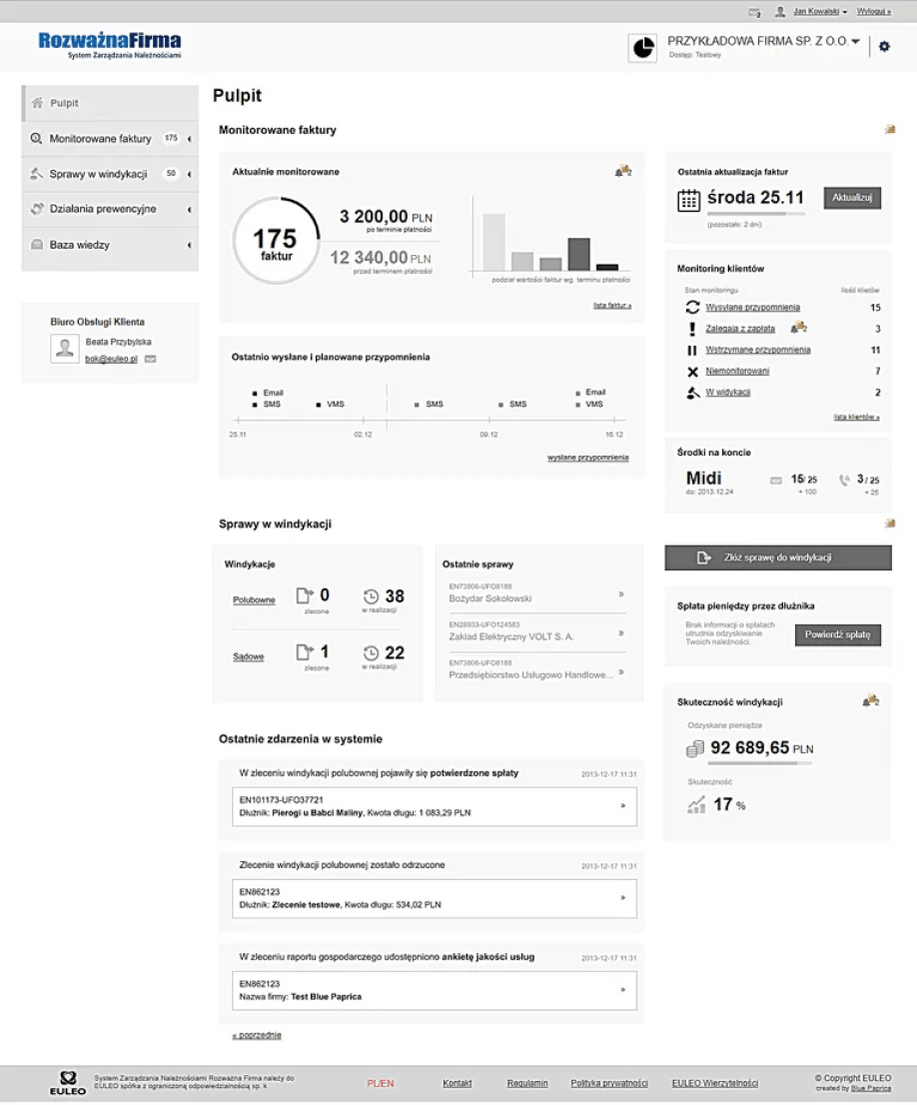 Debt exchange
Tool for managing debt collection and overdue invoices.
Something for the geeks
Technologies we used
We used the best available technologies to create the systems for Euleo. Here they are:
01
Zend Framework
Framework designed to create applications using PHP. PostgreSQLOne of the most popular open-source systems for database management. 
02
PostgreSQL
One of the most popular open-source systems for database management.
03
REST
A software architecture style created thanks to experience with writing HTTP protocol for distributed systems. 
Maciej Pałubicki
CEO Tandemite