What is BigCommerce?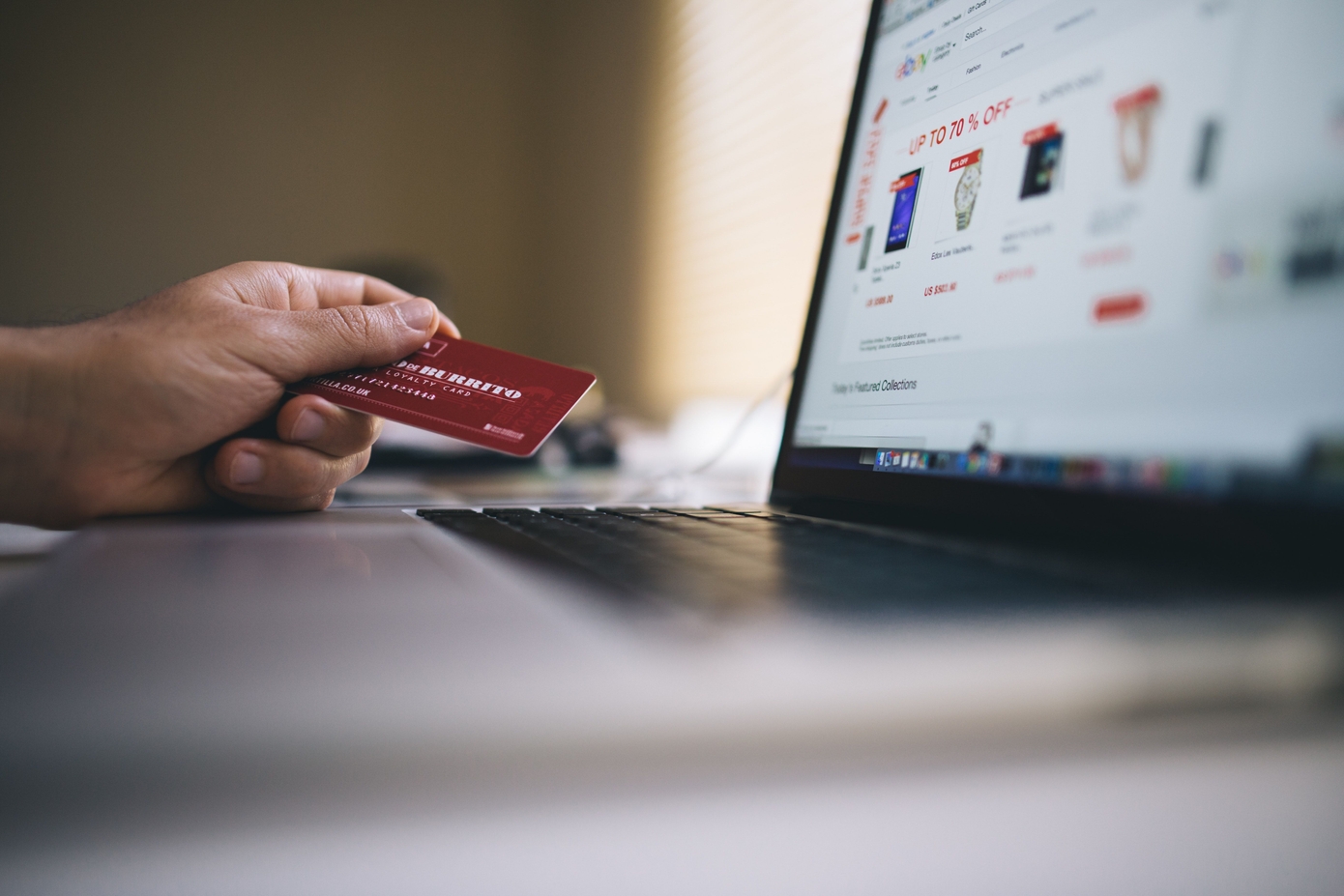 Constantly evolving modern technologies mean it is difficult to remain visible in the market without the ability to adapt quickly to change. Therefore, we have more tools to choose from, and more great CMS too. Starting your eCommerce store means making plenty of decisions. Including these about the right CMS. What is BigCommerce, then? Is it worth choosing?
From this article, you will learn
What is BigCommerce?
How does headless e-commerce work?
What gives you flexibility?
Which tools will help you set up your shop?
Why is security so important?
When is the user experience key?
What is BigCommerce? A versatile and flexible eCommerce platform
BigCommerce is a state-of-the-art platform that allows you, above all, to set up an eCommerce store. Its undoubted advantage is its flexibility, allowing users to implement technical innovations quickly and not fall behind the competition. 
The BigCommerce platform was founded in 2009 in Australia. Today, it is used by companies worldwide, and its popularity continues to grow, even as other eCommerce platforms appear on the market.
However, changing technologies and trends are not the be-all-end-all. This is because tried and tested solutions still count, and these, recommended by many well-known brands, continue to prove their effectiveness. BigCommerce's clients include Skullcandy, Four Pillars, and Yeti Cycles.
Headless e-commerce based on a reliable API will allow you to reconcile creative ideas with an efficient operation that will positively affect conversions and consumer satisfaction.
High flexibility with a BigCommerce store
BigCommerce works based on an API or Application Programming Interface. It is a technology that enables more efficient processes and time optimization.
The advantage of an API is the site's personalization, allowing users to find exactly what they need. Directly reaching the desired information is one way of meeting audience expectations.
This technology also allows the integration of different interfaces, making it faster and simpler to create new products or integrate them with various tools.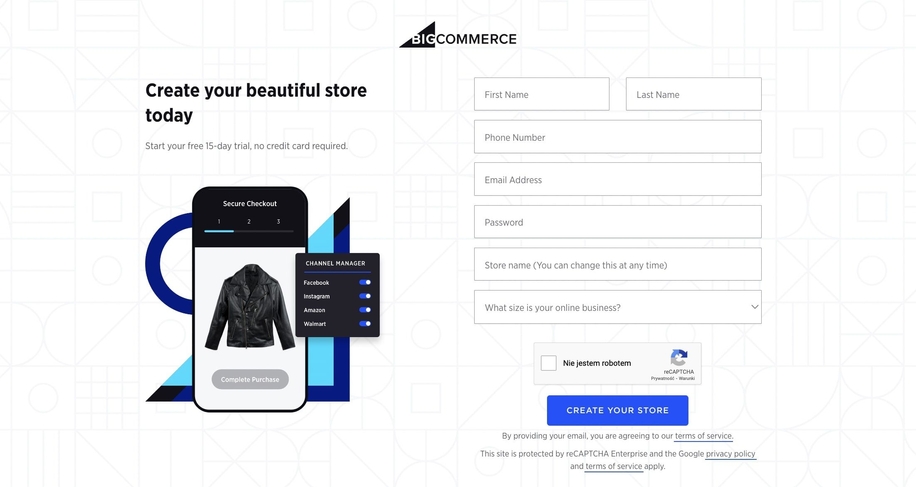 Headless eCommerce and no server
BigCommerce is a tool that offers cloud-based services, which are growing in popularity in today's world.
Contrary to what you might think, serverless does not mean a complete absence of a server. So, what is serverless, then? Instead, it is a transfer of responsibility for your site's infrastructure to your service provider, allowing you to focus only on developing your online shop and letting developers deliver well-written code. It moves your online business to the next level.
Headless, on the other hand, is the kind of software where the frontend and backend layers are separated from each other. With this option, you can be sure that your shop will display correctly to all users, regardless of their devices. As one of the most important online sales channels is mobile, that's critical.

Examples of headless eCommerce platforms
Of course, there are some BigCommerce alternatives worth checking before you decide.
Versatility and marketing tools
Among the many eCommerce platforms available on the market, BigCommerce definitely stands out for its versatility. This is not only due to the range of functions offered, but also to the almost limitless possibilities that the solution offers users.
If you dream of an innovative online shop that visually attracts customers and keeps them for longer through usability, this solution will certainly help you do that. 
It is worth adding that BigCommerce attaches great importance to marketing. This is because the platform creators understand the importance of activities that generate leads, i.e. people or organizations that are interested in what your brand can offer them.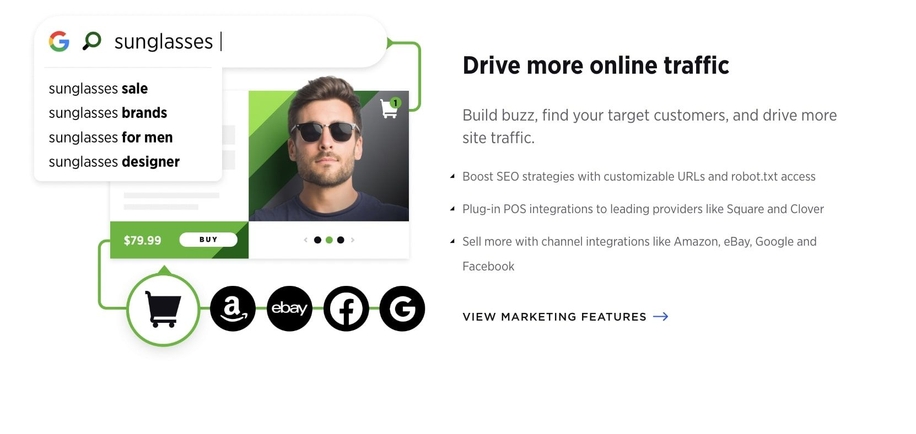 BigCommerce offers several options that allow you to manage your business freely and ensure user satisfaction:
B2B and B2C
The platform allows you to tailor your business to both B2B and B2C customers. This will enable you to meet the needs of all your users easily.
SEO
It won't take long to convince you of the importance of SEO (Search Engine Optimization) for your marketing and sales activities. At BigCommerce, you'll find the tools you need to analyse keywords and optimize your content effectively. What makes BigCommerce a good choice is that the company cooperates with Google to keep the best industry-standard SEO.
User and Developer Experience
BigCommerce is one of those platforms that care about the experience of all users, regardless of who they are. By using it, you ensure your employees' and customers' satisfaction. 
It is important for the User Experience that an online shop can be personalized and successfully adapted to the audience's needs, based on appropriate research. On the other hand, developers can be completely creative thanks to the absence of cloud and server maintenance responsibilities.
Performance
BigCommerce's developers work on a cloud-based model to ensure that your online shop runs quickly and that the server response time is optimal.
Support
BigCommerce offers help from the support team every step of the way. This gives you the freedom to work with confidence, knowing that an expert will always be happy to help you in case of problems.
Individual pricing
It isn't easy to find a strictly defined price list on the BigCommerce website (although there is a subpage with subscription models). This is because the developers have decided that pricing will be determined individually according to the needs of each customer. This option allows you to optimize the costs associated with choosing a monthly or annual plan - you only pay for what you use. 
BigCommerce pricing
For users not interested in individual pricing, the developers of BigCommerce have also developed subscription plans. Each is available in different variants, either monthly or annually, depending on the billing period.

There are, therefore, four different subscription plans depending on the commitment period:
Standard ($39 per month/$29 for an annual commitment)
With this version of the plan, you successfully create a visually appealing online shop and benefit from the basic options.
Plus ($105 per month/$79 for an annual commitment)
The Plus version allows you to include available marketing tools in addition to the essential core features that will positively impact your shop's conversion.
Pro ($399 per month/$299 with a one-year commitment)
By picking this option, you get access to comprehensive e-commerce features and improve the scalability of your business.
Enterprise (priced individually)
This plan gives you all the options and tools at your disposal, so you can easily stay ahead of the competition and your online shop is tailored to your users' needs and dynamic technologies. 
As you see, BigCommerce pricing is pretty clear. Whatever your subscription level, you can always count on the support of platform developers to develop your shop.
The different platform deployment models are suitable for different types of businesses. Less sophisticated ones are likely to work well for smaller organizations, while comprehensive ones are useful for more prominent brands. 
BigCommerce Enterprise

Setting up and developing a shop
The founders of BigCommerce claim that setting up a shop using this platform is a simple and enjoyable process. 
Once you have set up your online shop, you can move on to successfully customize its design. To create an attractive look for your business, you need:
Visual editor
This tool is ideal for creating a shop layout. You can easily edit individual pages and save your changes.
Shop theme
Here you can modify the shop theme. The solution already has HMTL, CSS and JavaScript built-in.
Checkout
You can even manage individual transaction steps using the API. This way, you can offer consumers the best possible purchase path.
Mobile optimization
The shop website should look attractive on both desktop and mobile devices. This option ensures the responsiveness of your website.
Preview 
A pre-publication preview is ideal if you want to get everything right and ensure your website is free of unwanted glitches that you can fix on the fly if necessary.
Integration
The tool allows you to integrate your shop with other systems. For example, if you use WordPress, you can easily connect it to the BigCommerce backend.
The features listed above are a complete package when it comes to setting up an online shop. By using BigCommerce, you can enjoy a wide range of tools that provide the best possible experience for your users. 
High-quality security
The developers of BigCommerce have taken special care to ensure that customer data is always adequately protected. The platform, therefore, offers a wide range of security features, including for completed transactions.
BigCommerce's users can take advantage of a dedicated helpdesk, a place where they can not only change their privacy settings but also get support on security issues. 
When operating in e-commerce, it is important to remember the importance of security for both the seller and the customer. If you are setting up an online sales business, you need to protect the data of both the business and all consumers.
It is worth mentioning that BigCommerce is certified to ISO/IEC 27001:2013 and PCI DSS 3.2 (level 1), documents that confirm that the highest security standards are met. That's something that every eCommerce store should offer to their customers.
Summary
Now, that you know what is BigCommerce, it should be easier for you to pick the right CMS for your online store.
BigCommerce offers its customers more than just beautifully presented online shops. It is a tool that provides flexibility, innovation, and high-quality security.
If you build your own online store and shop using a proven but technology-driven platform, you can easily meet the expectations of even the most demanding consumers.
Whatever the answer, get in touch, and we'll be happy to find the best tools for your various business needs!
READ UP ON IT
Related posts